Print a Sign-In Sheet | Spanish Version Coming Soon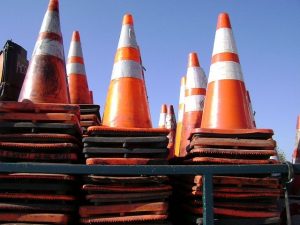 The presence of safety hazards in the workplace are responsible for numerous injuries each year. Sometimes safety hazards lurk in plain sight and may be easily overlooked. It is important to be aware of potential hazards and take appropriate and timely steps to correct them. 
It is equally as important to conduct regular and frequent safety inspections/walkthroughs of work facilities and/or job sites. In addition, it is a good idea to keep documentation of the facility/job site inspections. It is also imperative employees be trained on hazard recognition as well. Please see below for information on common workplace safety hazards to keep an eye out for. Effective hazard recognition will go a long way to preventing workplace injuries.
Exit Ways

Blocked exits

Items stored over the lines in marked exit routes

Exit lights out or not visible

Exit doors without panic bars or takes more than two actions to open

Fire Extinguishers

Blocked extinguishers

Un-mounted extinguishers

Discharged extinguishers

Damage to canister, hose, gauge, missing pin

No annual inspection

No monthly visual inspection

No hydrostatic test (every 5 years)

Lifting Slings

Knots tied in slings (they can weaken the sling)

Damage, fraying or cuts

Damage to wire rope

Bird caging to wire rope

Discard damaged slings

Breaker Boxes

Blocked with storage (maintain 3' clearance)

Unlabeled breakers

Missing knockout covers

Missing panel/box covers

General Electric

Damaged outlets or missing faceplates

Conduit not attached to junction boxes

Exposed electrical wires

Junction boxes missing covers

Damage to insulation on power cords

Plug separated from the power cord

Ground prong missing from the plug

Repairs to cords smaller than # 14 gauge

Compressed Cylinders

O2 and flammable gas stored together

Flammable gas stored less than 20 feet apart

Cylinders unsecured

Cylinders stored in areas where vehicles, forklifts, and other heavy equipment may hit them

Grinders and Portable Grinders

Missing tongue guard and not adjusted to within ¼" to the wheel

Missing work rest and not adjusted to within 1/8" of the wheel

Missing safety guards

Damaged, chipped, cracked grinding wheels

Machine Guarding

Missing safety guards

Exposed pulleys, chains, moving parts

Guarded pulleys, chains, moving parts, but only partially guarded

Employees can reach hands or other body parts through, over, under or around a guard

Point of operation unguarded

Unguarded saw blades
KEMI does not assume liability for the content of information contained herein. Safety and health remain your responsibility. This information is to be used for informational purposes only and not intended to be exhaustive or a substitute for proper training, supervision or manufacturers' instructions/recommendations. KEMI, by publication of this information, does not assume liability for damage or injury arising from reliance upon it. Compliance with this information is not a guarantee or warranty that you will be in conformity with any laws or regulations nor does it ensure the absolute safety of any person, place or object, including, but not limited to, you, your occupation, employees, customers or place of business.