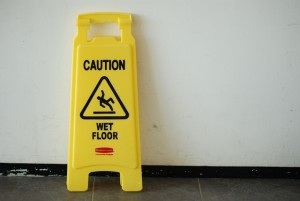 Print a Sign-In Sheet | Spanish Version
According to the U.S. Department of Labor, slips, trips, and falls are the most common occupational accident.
Many falls can be prevented with general safety precautions.
The two main causes of slips, trips, and falls are environmental conditions and human factors.
A slip occurs when there is too little traction, or friction, between the shoe and walking surface.
A trip occurs when a person's foot contacts an object in the way or drops to a lower level unexpectedly, causing the person to be thrown off-balance.
A fall occurs when a person is too far off-balance.
The main causes of slips include:
Spills of liquids and other debris such as mud, water, grease, oil, sawdust, powders, etc.;
Highly-polished or freshly-waxed floors;
Transitioning from one surface to another, such as walking from a carpeted surface to a smooth surface like tile
Sloped walking surfaces;
Loose floor tiles, loose or unanchored floor mats, and loose floor covers;
Wet, muddy, or inappropriate footwear;
Environmental factors such as rain, snow, and frost;
Mounting and dismounting equipment improperly; and
Climbing ladders with wet, muddy, or greasy shoes.
The main causes of trips include:
Uncovered cables, wires, or extension cords;
Cluttered walkways;
Open cabinets and desk drawers;
Changes in elevation such as unmarked steps; and
Damaged or non-uniform steps and ladders.
Other conditions and factors that may contribute to slips, trips, and falls include:
Poor lighting;
Use of bulky equipment and PPE;
Improper material handling techniques;
Loud noise or distractions; and
Medication or drug and alcohol effects.
The following safety practices can be utilized to minimize the risk of slips, trips, and falls:
Modify workspaces and work practices to reduce hazards. Avoid distractions!
Practice good housekeeping.
Keep all floors and walking surfaces clean and free of debris.
Clean up spills (or drops) immediately.
Block off contaminated areas.
Use caution signs to warn of a wet floor or "problem" area.
Repair or replace any damaged flooring as necessary, keeping floors free from raised or broken sections.
Cover and secure all cords, wires, and hoses and keep them away from high traffic areas.
Ensure that carpets, rugs, and floor runners or mats are flat on the floor surface and free of loose treads, edges, and bumps.
Keep all desk and file cabinet drawers closed.
Inspect equipment regularly to identify any fluid leaks.
Wear proper footwear, based upon the job being performed and current environmental conditions (wear slip-resistant shoes).
Ensure that shoes and all ladder rungs are free of debris before climbing ladders.
Avoid talking, reading, and other distracting activities while walking.
Walk, don't run.
Carry small loads.
Use handrails when ascending or descending stairs.
Use a flashlight while walking in poorly illuminated areas.
Inspect work areas regularly to identify slip, trip, and fall hazards.
Report all unsafe conditions immediately.
Ensure proper use of ladders.
Avoid use of chairs and boxes as ladders.
Mark swinging doors with in and out signage.
KEMI does not assume liability for the content of information contained herein. Safety and health remain your responsibility. This information is to be used for informational purposes only and not intended to be exhaustive or a substitute for proper training, supervision or manufacturers' instructions/recommendations. KEMI, by publication of this information, does not assume liability for damage or injury arising from reliance upon it. Compliance with this information is not a guarantee or warranty that you will be in conformity with any laws or regulations nor does it ensure the absolute safety of any person, place or object, including, but not limited to, you, your occupation, employees, customers or place of business.