Print a Sign-In Sheet | Spanish Version Coming Soon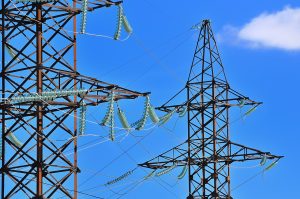 Overhead and buried power lines on a construction site can be extremely dangerous due to the unforeseen risks and high voltage. Scaffolding, ladders, cranes, bucket trucks, backhoes, boom lift, and raised dump truck beds can all come in contact with a power line on a job site.
How to work safely around Power Lines?
Most power lines are not insulated so assume all overhead and buried lines are energized.
Locate all power lines before the work begins.
Contact the power equipment for underground power line locations.
Have the power company de-energize and ground lines or guard and insulate the lines if you must work near them.
Keep self, ladders, and equipment at least 10 feet away from power lines at all times.
Post warning signs prominently on all equipment and in the area to keep personnel aware of dangers.
Use wood or fiberglass ladders, not metal when working near power lines. Always carry ladders horizontal and not vertical.
Never spray water near power lines.
Stay at least 35 feet away from a fallen or low hanging power line.
Power line workers must have special training and personal protective equipment.
KEMI does not assume liability for the content of information contained herein. Safety and health remain your responsibility. This information is to be used for informational purposes only and not intended to be exhaustive or a substitute for proper training, supervision or manufacturers' instructions/recommendations. KEMI, by publication of this information, does not assume liability for damage or injury arising from reliance upon it. Compliance with this information is not a guarantee or warranty that you will be in conformity with any laws or regulations nor does it ensure the absolute safety of any person, place or object, including, but not limited to, you, your occupation, employees, customers or place of business.